Endoanal Ultrasound Courses
Guidelines for Competency in Pelvic Ultrasonography (PAMS)
The Midlands Ano Rectal UltraSonography (MARUS) Course TBC 2018:



Venue: Education Centre, Queen Elizabeth Hospital, Mindelsohn Way. B15 2WB

Participants: 24 Fees: £200

Pelvic Floor and Anorectal Ultrasound Masterclass Croydon, 2018 12/13 May 2018
This workshop aims to provide skills in all aspects of pelvic floor and anal endosonography that would interest the novice as well as the more experienced. The programme will be comprehensive, encompassing a global perspective to pelvic floor trauma including levator injuries, rectoceles, cystoceles and urinary incontinence. Live demonstrations are planned and delegates will be given an opportunity to develop hands-on experience on image acquisition and interpretation
Venue: Postgraduate medical centre, Croydon University Hospital, Croydon, Surrey
Cost: £370.00 for two days (£200.00 for one day)
B&K US course @ ACPGBI, 3rd July 10.00 - 13.00, (£65.00), Purbeck Lounge, Bournemouth 2017
Once again BK Medical will be supporting a training course on Endo-Anal ultrasound with a faculty from St Thomas' Hospital, London. This will include formal lectures followed by 'hand on' assessment of 3D data cubes on BK Consoles.
Date: Tuesday, 3rd July 2017 Time: 10am - 1pm.
Venue: Purbeck Lounge, Bournemouth Conference Centre.
No of places: 35 Coffee and 'snacks' will be served (at 9.30am) prior to the meeting, at the mid-course break and a buffet lunch will be provided at the completion of the course.
In the past this course has been provided free of charge, but this has often seen delegates who booked the course failing to attend. This in turn leads to people who could have attended not being able to, as places were (apparently) not available. To try to overcome this BK Medical has decided to make a modest charge of £65 to cover the costs of running the course; with any monies in excess of the actual costs being donated to charity/a research fund. This is a very modest cost when compared to most similar training courses.
You will need to register and pay to attend the conference on Monday, 1 July in order to reserve a place on the Endo-Anal Ultrasound Course. Once you have reserved your place, the administration team at the ACPGBI will pass on your email details to BK Medical, so that we can contact you with regards to making the payment to secure your place on this course
We look forward to welcoming you to this course.
3D Ultrasound in Gynecology 08-10 June & 16-18 November 2017, Nottingham
The course has been running for four years and comes highly recommended. The course aims to be intellectually stimulating and rewarding for each and every one of you regardless of your expertise and knowledge. The course has been designed specifically for those of you who practice gynaecological ultrasound and want to learn more about advanced scanning techniques particularly 3D and Doppler ultrasound but is also suitable for beginners. The aims of the course, which has distinct practical and clinical components, include Establishing the basic principles of gynaecological ultrasound & getting the best out of your machine through hands-on practical sessions:4D View: basic and advanced applications
Clinical cases and worked examples.
A large proportion of the course involves working with 4D View. Each delegate will be given USB or CD which contains a series of 3D datasets that we will look through together as a group during the hands-on practical sessions to provide working examples of the topics discussed. We will help you become more confident with the software, master the different display options and perform reliable measurements of volume and vascularity. You can assess your progress in an informal fun quiz on the final day!
The course is held at the Park Plaza Hotel, a modern, four-star hotel in the heart of the city within walking distance of the main shopping and business districts. The course dinner is held on the Friday leaving Thursday evening free for you to do as you please. Please note that whilst we can offer advice and help with arranging your transport to and from the venue and accommodation during the course these are no longer covered in the course fee £ 795.00 and will be added to your invoice.
For further information:
E-mail: info@mrcogrevisioncourses.co.uk
Telephone: +44 (0) 115 92 42 289
Mobile: +44 (0) 7713 515423
9th Anorectal and Pelvic Ultrasound Course, ESCP Berlin, Weds 20 Sept., 2017
Time: 08:00 - 11:30
Course directors: Anders Mellgren (USA), Giulio Santoro (Italy)
•Introduction: course objectives - Anders Mellgren (USA), Giulio Santoro (Italy)
•Normal ultrasound anatomy of the anal canal and rectum - Luis Miguel Jiménez Gómez (Spain)
•Normal ultrasound anatomy of the pelvic floor - Giulio Santoro (Italy)
•Ultrasound evaluation of fistula and abscess - Carlo Ratto (Italy)
•Ultrasound evaluation of faecal incontinence - Bruno Roche (Switzerland)
•Ultrasound in preoperative staging of rectal cancer - Johan Nordenstam (USA)

Tea/Coffee
•Ultrasound of anterior compartment disorders - Pawel Wieczorek (Poland)
•Ultrasound of posterior compartment disorders - Giulio Santoro (Italy)
•How can ultrasound change the clinical decision-making? - Liliana Bordeianou (USA)
Case discussions and videos
Supported by BK Ultrasound
St Thomas' Endoanal US Course 6-7th December 2016
Simulation & Interactive Learning Centre, 1st Floor, St Thomas House, St Thomas' Hospital, Westminster Bridge Road, London SE1 7EH
Dates: Tuesday 6th December 2016 - Endoanal Ultrasound
Wednesday 7th December 2016 - Pelvic Floor Ultrasound

Cost: Early bird offer (before October 31st)
Registrars/Trainees/Nurses/Clinical Scientists: £130 for 1 day/£220 for 2 days
Consultants: £230 for one day/ £320 for two days
Dinner: Tuesday 6th December 2016
Free eBook: Multicompartment Pelvic Floor Ultrasound Imaging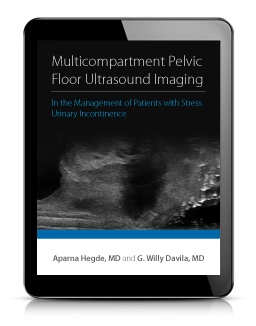 In this handbook Dr. Aparna Hegde and Dr. G Willy Davila provide an introduction to multicompartment pelvic floor ultrasound imaging in the management of patients with stress urinary incontinence.
Read the eBook to learn:
Why ultrasound is an excellent imaging modality to visualize mesh
The benefits of 3D and multicompartment pelvic floor imaging
Other uses of ultrasound to assist with diagnosing pelvic floor disorders